Fifty types of trilobite have been discovered at the Wrens Nest National Nature Reserve. The trilobite is one of many fossilised creatures found there, although extraordinary in many ways, its development of a crystal eye set it apart making it, perhaps, the first creature to look at the world. This facility to see, may be the distant beginnings of our own seeing, our own objectivity.
In the knowledge of this I began my enquiry with the question: – What would the trilobite have seen?
It seemed obvious that I would need to engage in an objective understanding of the best record of the site – fossils. Dudley Museum and Art Gallery hold a superb collection of fossils from the Wrens Nest, and it was in the museum's basement that I spent many hours making detailed drawings of these.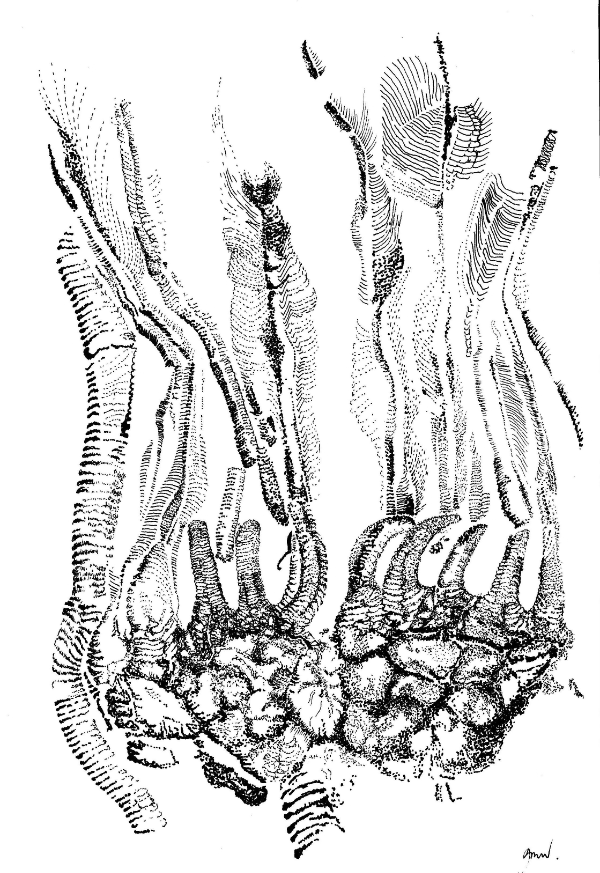 Of the many fossilised creatures, it was the crinoids that particularly attracted me. Also known as sea lilies, they are anchored to the bottom where rises a stem, or column to a crown of arms, similar to the feathery venous forms often seen after the tide has returned from the shore edge. The waterline is, for me, a powerful fluid boundary between above and below, and below and above, depending on our perspective, and exemplifies the adage 'as above so below.'
With this in mind I began to explore the drawings through reflection. Within each fossil drawing are found the reflected possibilities of many other life forms.
Working specific to sites has taught me the lives of past live on in the present. Perhaps it is no accident that glass making is found in the area today. Was the trilobite the first glassmaker? Or is it that the inherent qualities of form, and maybe colour, as experienced in the crinoid fossils come to life through the flamingos at Dudley Zoo.
Perhaps as these most ancient of birds stand and gaze into the waters below they catch sight of their own historic reflection.